(Continued from Part 1)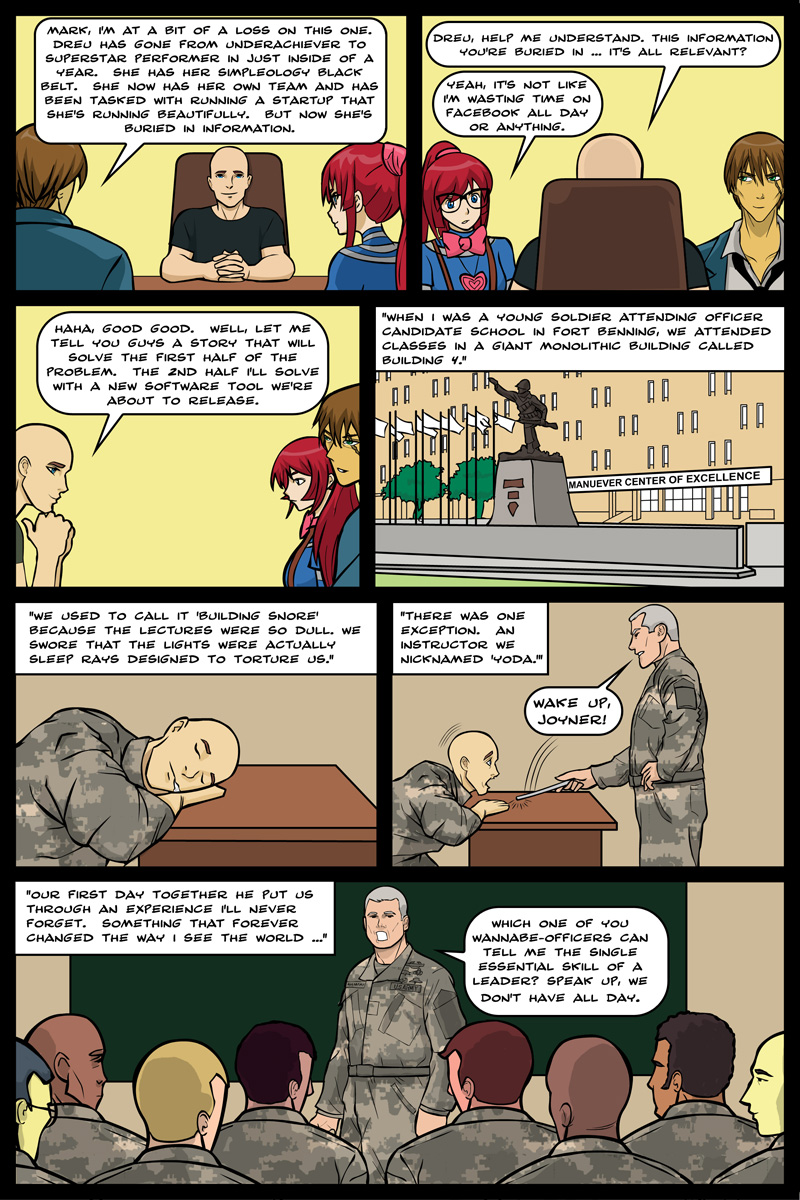 (click here for full-sized cartoon)
"Yoda" grilled us for the next hour.   Such a simple question.  Why was the answer so elusive?  Was he toying with us?  Was this a trick question?
Officer Candidate #37:  Communication!
Yoda:  What!? You have a suicidal battle plan, but you communicated it to your troops with poise and eloquence.  Congratulations.  They'll pin a speech-making merit badge on your chest when they burry you and your soldiers.  Next!
Officer Candidate #129:  Delegation!
Yoda:  That sounds smart.  The operative word there being "sounds."  You can think about what to write in your letters to families of the fallen with all of the time you freed up for yourself.  Next!
An hour later the class fell silent and spent.  In that moment we understood two things:
1.  They were about to send us off to lead troops.
2.  Not a single one of us really knew how to lead.
When the ton-of-bricks that was the big reveal hit us, we instantly saw the world with new eyes.
Can you guess what it was?  I'll tell you next week.  Meanwhile let's have a little contest.
Contest Rules

1.  Write your guess in the comments below.  (Hint:  the answer is in one of my books.  If you know which one, please keep that to yourself for now.)

2.  If you get it right, you'll get a prize.

Prizes

First person to get it right:  Simpleology Elite free for life.

Next five people to get it right:  Simpleology Elite free for a year.

Everyone who gets it right:  old-school Simpleology course of your choice for free (choose from any of our old courseware – up to a $97 value)
UPDATE:  Click here for the answer …