A Peek Inside Simpleology 5
Simpleology 5 is finally here.  Without question, this is our most significant release yet.  It's built upon the 4.0 platform, but the new training and certification system we've built for it is, well … a revolution.
We have already begun to send out upgrade invitations and will keep sending them at a pace the system can handle – making improvements as we go.
Meanwhile, here are a few peeks to prepare you for what's in store.
1.  No New System to Learn.  It's Built on 4.0, but …
If you are concerned about having to learn a new system, don't worry.  There are no significant changes to the 4.0 interface.  What we've built on top of it will actually make the system even easier.
2.  New Feature – Codename:  Habit Bombs
If you followed the cartoon series leading up to 5.0, you'll know that at the core of it, Simpleology boils down to three simple steps …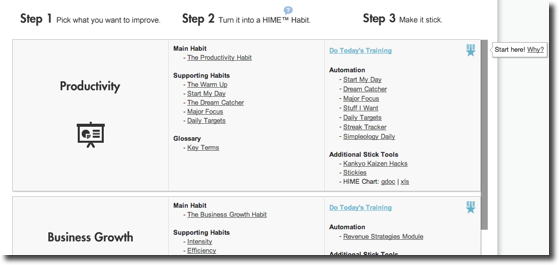 There is much more to this formula than meets the eye, and we'll be talking about this in more detail in the coming months.  But know that this can be applied to virtually anything.
The first thing you'll apply it to is, you guessed right, productivity.  And now the best way to master your productivity is to …
3.  Become a Simpleology Black Belt
Ever since we retired our courseware programs, there has always been an education gap at Simpleology.  This was partly by design.  The plan has always been to replace it with something far better and that day has finally arrived.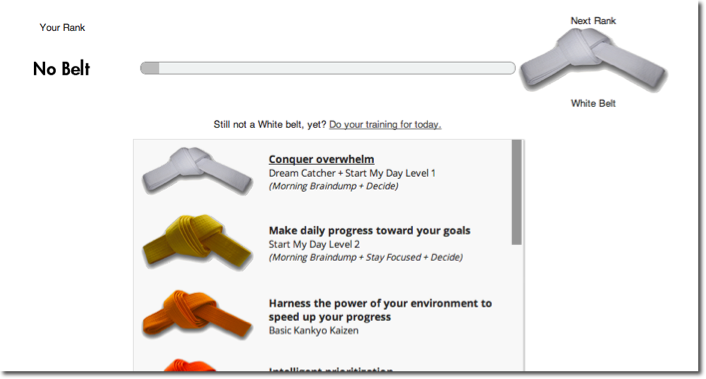 4.  Start My Day Streak Tracker
Let's face it – if you're not doing Start My Day on a regular basis, you're not getting the full benefit of Simpleology.  A major component of version 5 is stick.  Your habits define who you are.  And for habits to mean anything they need to stick.
Since Start My Day is the single most important foundational habit you can acquire, we've added a "streak tracker" to keep track of how often you're doing Start My Day.  You simply set how many days per week you want to do Start My Day (we recommend 5, but it's up to you), and we show you a great big red line to represent your streak.  When you break the streak, so breaks the red line.
5.  When in Doubt?  Do Today's Training!
Really, Simpleology 5 boils down to one button …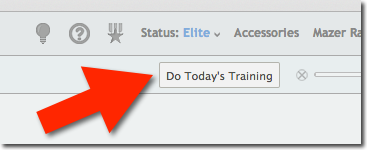 Forget the rest of this blog post.
Forget everything else we've ever taught you.
Just log in …  Click the "Do Today's Training" button once a day …  And we'll take it from there.
It really (finally) is that simple now.