The Everyman's Superpower
So, a few years ago I wrote a book in a day …
How did I do it?
I used what I call "The Everyman's Superpower."
Look, it wasn't an especially long book as books go … But, like many of my books, it became a #1 bestseller and is now in print in 25 languages.
"Not bad for a day's work!"  Haha, yeah … It is pretty nice.
And, it's not so simple, of course.  The promotion and production of the book certainly took more than a day (understatement of the millennium).   Getting to the point where I could do it in a day was no mean feat, either.  Indeed, that's the real rub.
See, The Everyman's Superpower sometimes visits us briefly in moments of desperation.  It's rare, but it happens.   Is that what happened that day?  Ha.  I should be so lucky …
Most of the time, The Everyman's Superpower is slowly stoked.
The problem is, this is usually a passive process.  That is, it happens to us.  My aim is to show you how to happen to it.  I want to show you how to harness it and make it do your bidding.
Further, I'm just not that patient anymore.  Yes, some things require time and there's no way around that, but it turns out this isn't one of them.  I want to show you how to have The Everyman's Superpower on tap.
You could then use this power to …
finally create that (book, album, product, whatever)
take off the shackles of debt (and finally know true freedom)
launch the next (revolution, startup, non-profit)
do pretty much any-damn-thing you want
Indeed, if you see any significant accomplishment, I can guarantee the person behind it was using The Everyman's Superpower, whether they knew it or not.
We all use it every day, to a greater or lesser degree.  It is available to us any time we want it.  The trouble is, we just don't know how powerful we actually are.  So our power remains largely untapped.
Haha!  You are probably asking at this point …
"Well, what is it?"
Sure, I could tell you.  It's taking a great deal of restraint not to shout it from the rooftops right now, believe me.
But then what?
Well, it's a funny thing …
No one really listens to anyone anymore.
These days you could even tell someone the high holy cure for cancer and it just wouldn't hit home.
They'd read it, go "oh that's nice," and remain in that click…click…click…trance we all know so well.
That would be a real tragedy, my friend.  A real tragedy, indeed.  See, The Everyman's Superpower came to me as an epiphany.  Maybe the most powerful epiphany of my life.  I feel like I finally "get it."
I had heard this message before.  It was right there in my face many times for years.  But like all important messages these days it was lost in the cacophony of information overload.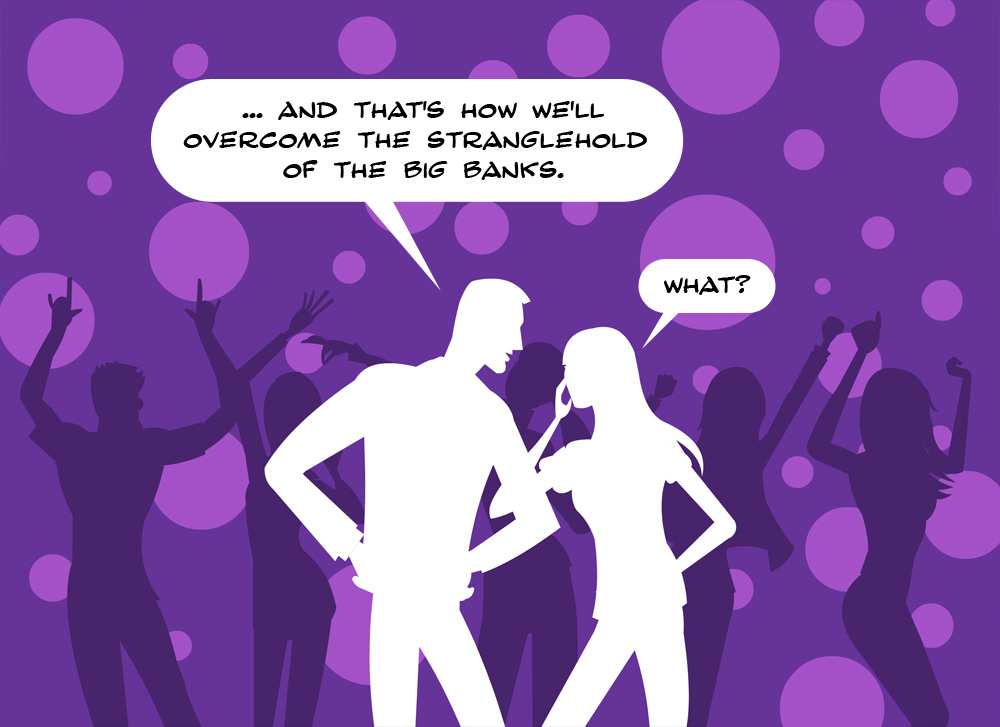 Hmm … how am I going to make this stick?
Joseph Campbell, the great scholar of lost wisdom, lamented modern society's lack of rites of passage.
"… the traditional rites of passage used to teach the individual to die to the past and be reborn to the future …"
- Joseph Campbell from The Hero with a Thousand Faces
Perhaps this is why what is important today is "everything and nothing."  We no longer have genuinely transformative experiences.
Instead, we have "content" dutifully churned by slowly-dying souls who do it because they need to put food on the table.  We have electronic micro-addictions designed to dole out that next little dopamine hit.   Even our biggest social movements and "great conversations" are often manipulations designed to lead us to some pre-drawn conclusion or distract us from the actual truth.
Every article screams at us "pay attention to me!" with equal volume …
… rendering everything meaningless.
The biggest trouble with this, of course, is that there are a precious few genuinely vital lessons that should stand out among the rest.
"The multitude of men and women choose the less adventurous way of the comparatively unconscious civic and tribal routines. But these seekers, too, are saved—by virtue of the inherited symbolic aids of society, the rites of passage, the grace-yielding sacraments, given to mankind of old by the redeemers and handed down through millenniums. It is only those who know neither an inner call nor an outer doctrine whose plight truly is desperate; that is to say, most of us today, in this labyrinth without and within the heart." - Joseph Campbell
So, I want to design for you a rite of passage.
If you will indulge my eccentricity, over the next few posts we will take a rite of passage together.  We will write your superhero origin story.
Are you in?
If so …