Your Roadmap to Money in the 2020s
URGENT UPDATE FOR
Dear Friends,
I released this book 3 weeks before "the week that changed the world" and now folks are writing in saying, "holy crap – everything you predicted is already coming true right before our eyes."
It's with no pleasure that I say …
We're just getting warmed up.
Even when the Covid-19 situation is under control the other 9 "threats" I listed (see Table of Contents below) are still on the near horizon.
Use this time as an opportunity to learn "the new normal". Most folks are panicking and hiding out.
Bad move!
To survive, you need to master "The 3 Essential Hedges" I mention at the end.
Some Advice:
1. Don't skip to the end to read "The 3 Essential Hedges". You won't understand them unless you get the full context, and …
2. Most people report that they can read all 371 pages in one sitting. It's loaded with images, large typography, and special formatting based on advanced learning psychology to make it an easy fast read.
3. Speed is of the essence right now. That's another essential component of "the new normal".

Download and read this book immediately. Again, you can do it in one sitting.

As the inventor of the tracking pixel (which was laughed at in the tech press in the 1990s when I invented it, but which now touches every person online every single day) …

As the guy who launched the first ebook publishing company (a full 14 years before Amazon launched the Kindle) …

As the inventor of many of the technologies in common use today by every person on the Internet …

I've somehow been able to remain years (and sometimes decades) ahead of the trends. The trends you're about to discover represent the single most important thing you can learn right now.
It's here …
I first called this a "report", but it's actually an early-release version of what will soon be a mass-market book.
Let's not mince words … it might freak you out.
That's exactly the opposite of the intention.
Did you know that some of the greatest fortunes in the history of the world were amassed during:
The Great Depression
Every "Housing Bubble"
Every "Stock Bubble"
Every single event that made the average person "freak out" and behave irrationally …
Get it? The key is to remain calm … rational … tactical …
And what's coming?
Ha …
It's going to make The Great Depression feel like a Sunday stroll through the park.
Anyway, you have some reading to do, so I won't spend any more time jibber jabbering.
The early-release version of the book (in ebook form) is free … but I'm going to ask you to do me a small favor in return.
To read it, all you have to do is sign up … share it … and then it's yours.
Why? Because if more of the people you know about learn about this stuff, your chances will improve greatly.
Don't just share the file, OK? That won't do the people you love any good.
They're going to need continued guidance.
When you sign up, I'm going to follow up with an arsenal of additional guidance over the coming months that will:
Give you realtime updates about new developments
Share new

super potent tactics and strategies

in realtime as we develop them
Show you how to turn tragedy into profit – every step of the way
And more …
Go ahead and download it now …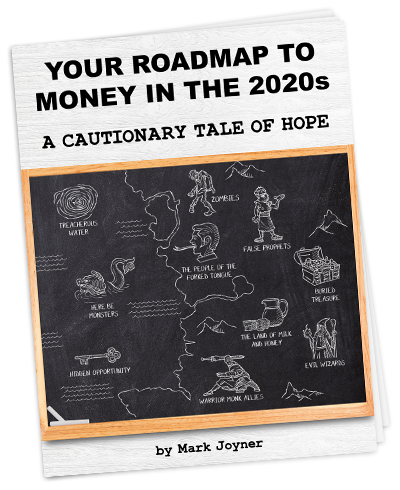 FREE REPORT:
Your Roadmap to Money in the 2020s
download now (while it's free)
All the best,
Mark
Mark Joyner
Founder and CEO
Simpleology® – Simplicity is FREEDOM!
P.S. Here's a sneak peak at the Table of Contents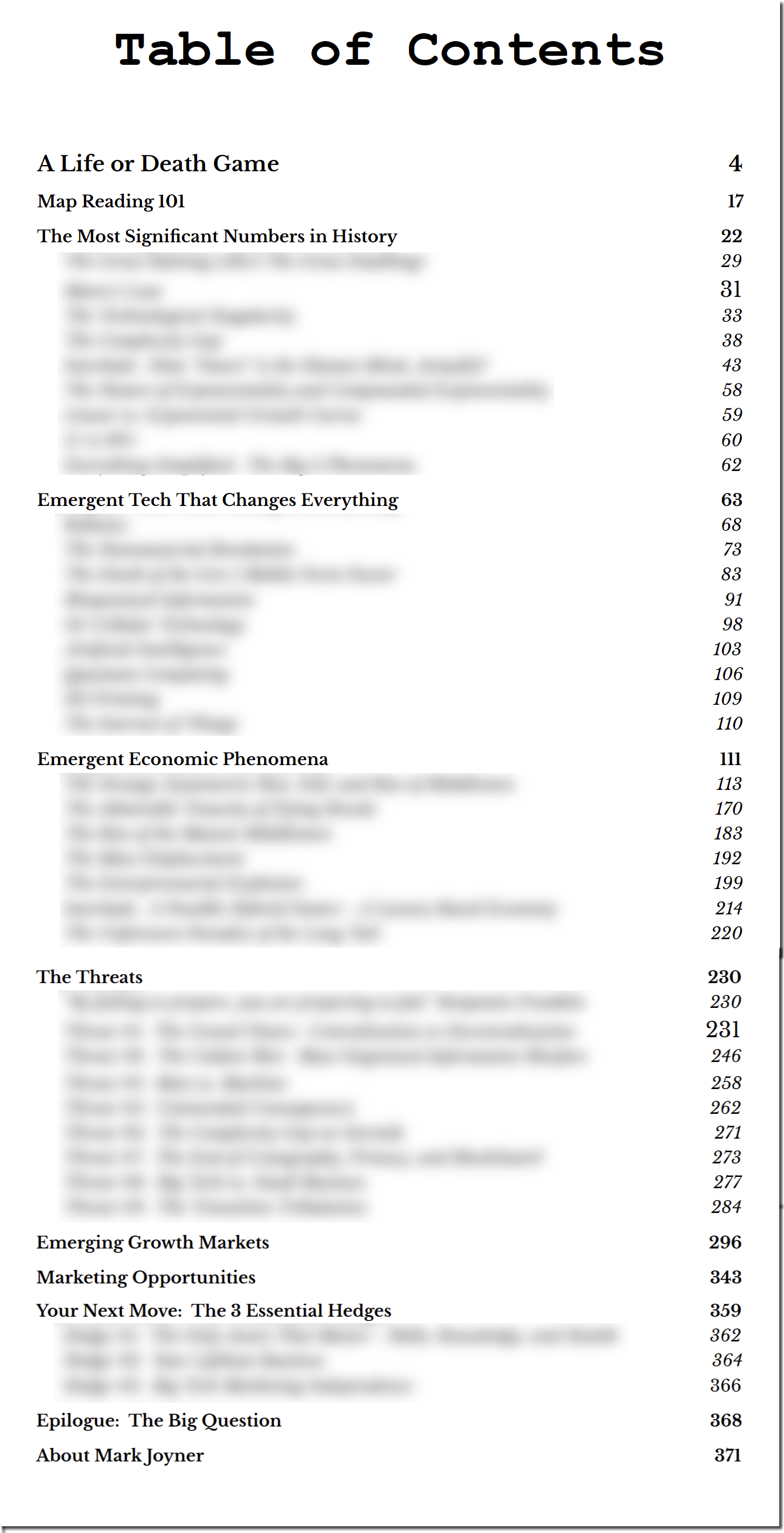 Go ahead and download it now …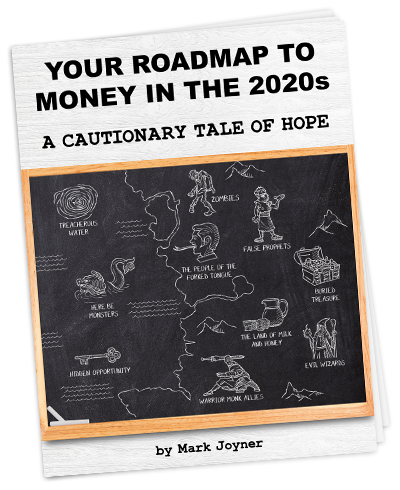 FREE REPORT:
Your Roadmap to Money in the 2020s
download now (while it's free)