Your Roadmap to Money in the 2020s
It's here …
I first called this a "report", but it's actually an early-release version of what will soon be a mass-market book.
Let's not mince words … it might freak you out.
That's exactly the opposite of the intention.
Did you know that some of the greatest fortunes in the history of the world were amassed during:
The Great Depression
Every "Housing Bubble"
Every "Stock Bubble"
Every single event that made the average person "freak out" and behave irrationally …
Get it?  The key is to remain calm … rational … tactical …
And what's coming?
Ha …
It's going to make The Great Depression feel like a Sunday stroll through the park.
Anyway, you have some reading to do, so I won't spend any more time jibber jabbering.
The early-release version of the book (in ebook form) is free … but I'm going to ask you to do me a small favor in return.
To read it, all you have to do is sign up … share it … and then it's yours.
Why?  Because if more of the people you know about learn about this stuff, your chances will improve greatly.
Don't just share the file, OK?  That won't do the people you love any good.
They're going to need continued guidance.
When you sign up, I'm going to follow up with an arsenal of additional guidance over the coming months that will:
Give you realtime updates about new developments
Share new

super potent tactics and strategies

in realtime as we develop them
Show you how to turn tragedy into profit – every step of the way
And more …
Go ahead and download it now …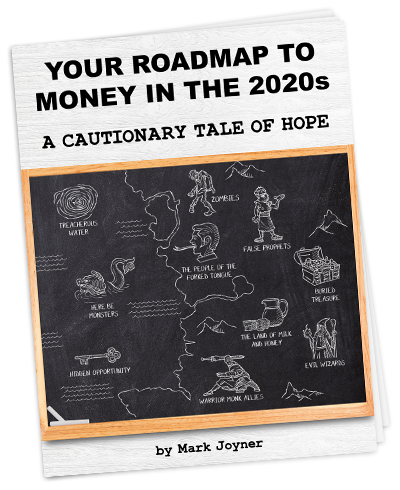 FREE REPORT:
Your Roadmap to Money in the 2020s
download now (while it's free)
All the best,
Mark
Mark Joyner
Founder and CEO
Simpleology® – Simplicity is FREEDOM!
P.S.  Here's a sneak peak at the Table of Contents